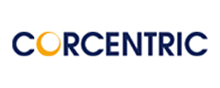 Corcentric
This B2B vertical marketplace developer, formerly know as eTrading Solutions, came to us seeking a way to capture their essential business model in a name. Corcentric provides their customers in heavy industry with powerful, centralized, automated marketplaces capable of handling huge volumes of transactions between each customer and their potentially thousands of suppliers.
The name also needed to communicate stability, efficiency, strength and size, and, of course, the domain name had to be available.
When we discovered our solution we knew we had a winner. It derived from two key words and concepts, core and centralized, that kept coming up in the discovery phase of our process. And the sound sense of the name, with its combination of hard C, T and long O phonemes, gave it just the right nuances of power, efficiency, and size.